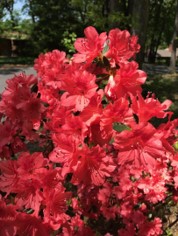 The DCI family's yard is heavily wooded with trees which doesn't leave much luck for grass or anything else requiring a lot of sunlight, (see James' humorous post here regarding this struggle) but it does lend itself to some really pretty azaleas. We have several that every spring provide us with the most beautiful display of pinks, coral, and white. They are relatively easy to care for if you are strategic in the kind you pick, you can enjoy their beauty in waves. Some of ours bloom early and others a just a little later giving us extra time to enjoy the show. And … don't give up on them if, in the fall they are looking a little spindly and it appears their best days are gone.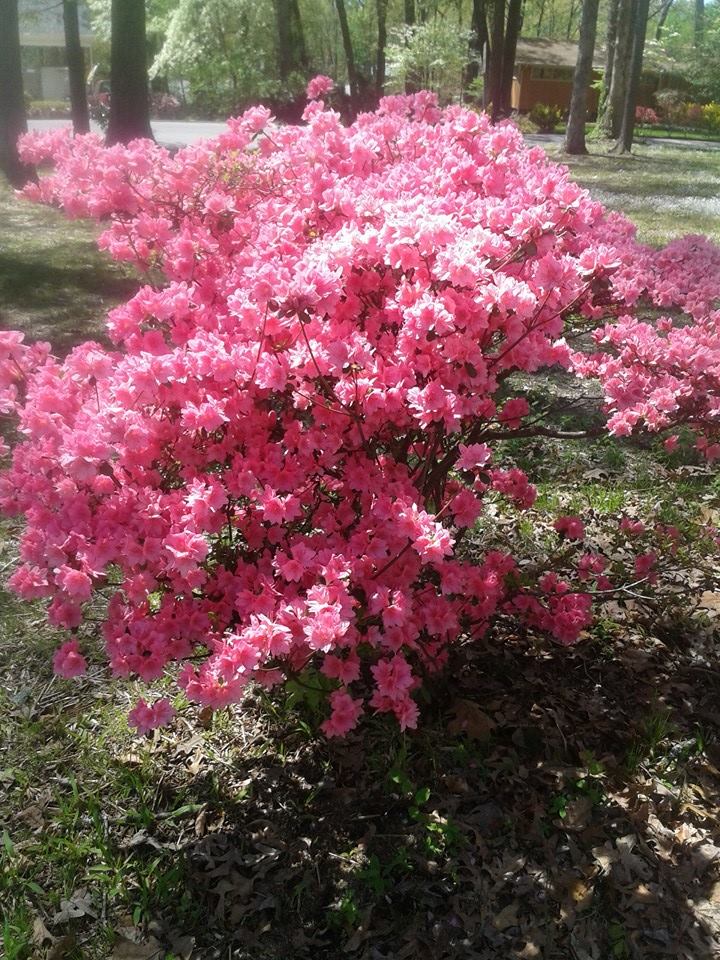 This pink one looked just like that but James resisted the thought to cut it down. Instead he mulched it well and let it go. By spring that year, it gave us this beautiful show and continues to do so each year since. If you missed it earlier, Tom Thompson of Natural Art Landscaping wrote a great post for us on spring yard and garden maintenance. Check it out here.
Here's some tips provided by The Old Farmer's Almanac for growing healthy azaleas:
The best time to plant azaleas is in late spring or early fall. Evergreen azaleas do well in partial shade with some wind protection. Deciduous varieties flower more profusely in full sun.
Provide well-drained, humus-rich soil that is slightly acidic (pH 4.5–6).
Mulch well. Shallow-rooted, azaleas tend to dry out quickly if not mulched. A mulch of oak leaf mold, pine needles, or aged oak, pine, or hemlock sawdust will keep soil acidic and moist.
Fertilizer isn't needed. The decaying mulch will provide all of the nutrients that azaleas need.
Seldom bothered by insects and diseases, azaleas require little care once established, except for watering during dry times.
If you are someone who likes a resource in hand, try Azaleas, Rhododendrons and Camellias 2nd Edition by Sunset Books. We have camellias in our yard as well and they provide beautiful blooms during the depth of winter. Ours are planted just outside our kitchen and dining rooms windows and what a display of color in the grey of winter we enjoy!
Have you had great success with your "Queen of Spring" or any other garden beauties? Let us know in the comments! We'd love to hear and learn from you too!
The links to external sites in this post are affiliate links, and we will be compensated when you make a purchase by clicking through our links.
https://dosherconstruction.com/wp-content/uploads/2014/11/dci-header-logo.png
0
0
Sherri
https://dosherconstruction.com/wp-content/uploads/2014/11/dci-header-logo.png
Sherri
2019-05-07 09:46:42
2019-05-07 10:02:48
Healthy Azaleas