For a very long time I was what I call a "recipe cook". Meaning, I needed a recipe to make a particular dish. I cooked very well, but I had to have a recipe to follow. Over time and lots of practice, I have grown away from recipes and more often than not these days, I can put together a dish with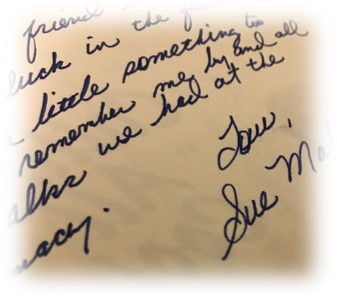 out one. However, back in the day, I collected a lot of cookbooks. I have an entire book shelf full and more boxed up in our attic. I still use them occasionally and you can easily tell my favorites. They have smudges on the pages and some automatically flop open to a frequently used and favorite recipe. That is the case with this biscuit recipe I am sharing here. It is in a cookbook given to me nearly 30 years ago by a dear friend. She lives four states away so visits are few and very far between but this recipe and Facebook keep us connected! She wrote a note to me on the inside cover and it still makes me smile as I think about all the fun we shared all those years ago. This is one of those cookbooks with a collection of recipes that family and friends submit typically for churches or schools. I have found, those are just the best when you want comfort food or need something to take to a pot luck! I like the glossy paged cookbooks with beautiful pictures as much as the next gal, but, when I am in a pinch and need something no fail and no fuss, I will almost always reach for the books that are filled with recipes like Mildred's Chicken Casserole or Betty's Lemon Meringue Pie.
This biscuit recipe could not be easier. It has three ingredients and you bake them in a muffin tin. You can roll the dough out and cut them too, but honestly, I don't see a need to when they come out just as tender, flaky and delicious baked in the tin. And the best part is, I am reminded of my sweet southern friend as I take a bite out of these yummy biscuits.
Mayonnaise Biscuits
1 cup self-rising flour (you can also add 2 teaspoons of baking powder to 1 cup of plain flour)
½ cup milk
3 heaping tablespoons mayonnaise (Duke's is the best in my humble opinion!)
Mix all ingredients well. Dough will be sticky. Use an ice cream scoop to fill greased muffin tin. Bake at 400 for 15 minutes.
Tip: You can flavor these up however you like. I have used herbs and spices, cheese, ranch dressing, melted butter, etc. The possibilities are endless!
Do you have a favorite recipe from an old friend? Share it in the comments. We'd love to add it to our collection!