Buy your paint
Take your time choosing the color you want. Paint looks different under lighting so bring home a sample which can by purchased at most paint stores for a few bucks and paint a small section on the wall in the room you are going to paint. It might take several tries to make sure it is what you want (it is not going to hurt anything, you are going to paint this wall anyway soon).  When you have made sure you like the color you have picked, figure the square footage of surface you have to paint.
How to estimate the amount of paint you will need to buy. For walls, you can figure square feet in this manner:
8 feet (normal ceiling height) x (wall lengths combined).
Example:   four walls measure 16 ft, 12ft, 16ft and 12 ft. This equals 56 linear feet…. multiplied by the ceiling height (typically 8 feet)…total is 448sq/ft .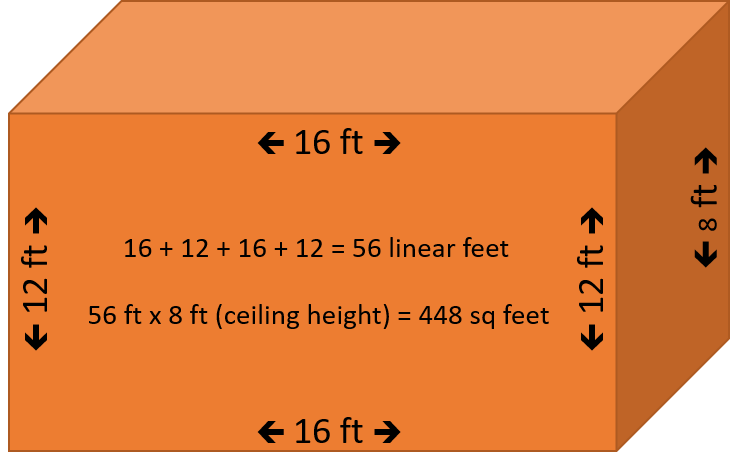 A gallon of paint usually will cover 300 sq/ft. For the room in the example, you will need 1.5 gallons. That is if you are only applying one coat. It may take two coats to cover properly….figure 3 gallons.
How many coats will it take to cover? 
My rule of thumb is…. plan on it taking two coats.  If the paint you are covering is darker than the new paint, it is going to take two coats. If the paint you are covering is lighter than the new paint, it is going to take two coats.  If the new paint is the same color as the old paint, you might get away with one coat….maybe….but don't bank on it. Plan on it taking two coats to get that consistent coverage you want. If you aren't sure if it going to take two coats, just buy half your paint and see. You can always take you paint lid back to the store that mixed it and let them mix another gallon.
Buy your brushes, roller sleeves, a good drop cloth, paint cup, painters tape and wipe cloths.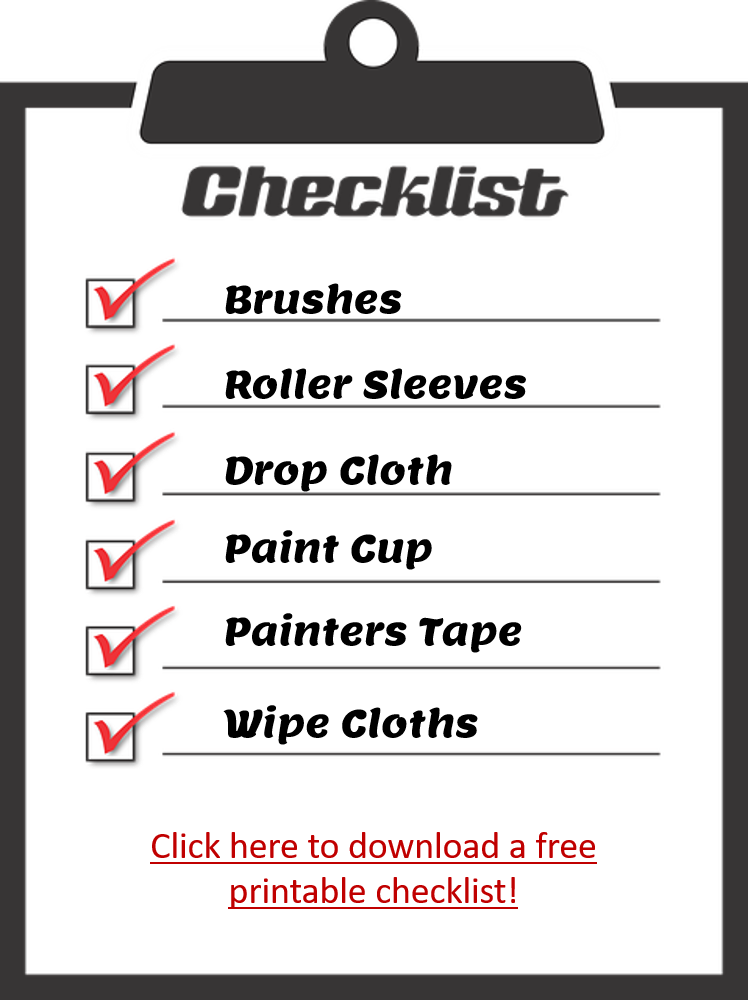 Now that you have your paint, it is time to get the rest of the tools you need to get the job done. Let's start with rollers. I've never noticed a whole lot of difference between any of the rollers that I have used. The less expensive ones have performed just fine for me. Make sure your roller has a handle in which a paint pole can be threaded. That is really handy for taller wall heights and if you are under 6 feet tall. The less time getting on and off a ladder, the quicker the job goes.
Roller sleeves are the part that actually holds and distributes the paint. They slip on and off the roller with firm pressure. There are many different "nap" heights depending on the roughness of the surface you are painting. Most drywall constructed walls have a smooth finish and a 3/8″ nap works perfectly.  If you are painting a textures surface you will want to move up the scale to a higher nap(1/2″, 5/8″).   I usually buy a 6 pack of roller sleeves. You get a price break for bulk and I find that I can paint several rooms  at the same time( if they are different colors) and allow one room to be drying while working on another and increase my efficiency.
Get yourself a good cut -in brush. You can pay 99 cents for a brush or $20 for a brush. I usually find a really good brush somewhere in the middle price range.  A cut -in brush has an angled tip….this is what you want.  An angled tip allows you more precise control as you paint around the edges of your room. I usually get a 2 1/2″ brush if I'm cutting in around trim or ceilings.
You need a good drop cloth or two. Paint has a way of dripping off your roller and brush. With practice you will get better at controlling those drips but until you do get better at it, you will want a drop cloth.  And by drop cloth, I mean a drop cloth…not a piece of plastic.  Drips on cloth are quickly absorbed (especially if you take a finger and rub them into the cloth) and dry quickly. Drips on plastic have no where to go and are a disaster waiting to happen if you don't notice them. Eventually you do notice….you notice that there are dried paint dabs on your fine hardwood floors or carpet that resemble exactly the tread pattern of your shoes. Invest in a good drop cloth and save yourself a lot of anguish later.
Get a bag of wipe clothes. Wipe clothes are white cotton rags than can be dampened and carried with you and make the occasional drip disappear like magic. A bag can be often purchased for a few bucks.
Invest in some good painters tape. I like the 3M blue. It sticks very well to most surfaces to create a nice straight edge. It comes up easily too. It is not cheap….$5-7 a roll….but it is worth every penny you pay when you pull it up and see that nice crisp paint line .
Get a paint cup. A paint cup is a plastic cup about the size of a quart jar with a handle on the side. It has a magnet on the inside of the cup adjacent to the handle. That magnet makes a wonderful holder for you brush  as you move about your job. The cup is also so much more comfortable to handle than trying to maneuver a paint can of any size.
Questions about what to buy? Leave them in the comments below! Part 3 of this post series will discuss application of the paint. Stay tuned!
The links to external sites in this post are affiliate links, and we will be compensated when you make a purchase by clicking through our links.