Fall is a great time of year to enjoy the benefits of a deck. It's a part of your home that allows you to relax while enjoying the colors of the season, grill your favorite foods to share with friends and family or catch a nap in the cooler temperatures. This week, the DCI crew finished building a new deck for a homeowner's vacation home along the James River in Surry County.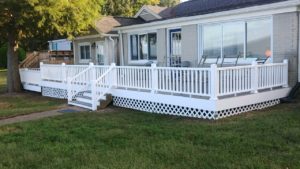 For their outdoor space, the homeowners chose a composite deck that runs the length of the back of their house. It will provide spectacular views and be a perfect complement to their home on the "Rivah". If you are inspired to add a deck to your home, here's a few things to consider first:
Foundation – is the area level and clear or would you need to build up the ground or remove trees, bushes or previous landscape materials? The homeowners on this job chose to leave the tree at the corner of the deck because it is healthy and provides an ample amount of shade.
Size and Location – how big would you like the deck and where do you want it located? Size and location can depend on the purpose for your deck. If you want to relax privately or use it for family meals you might want to think of location in regards to sun, trees, and the view from your neighbors. If you want to use it for entertaining, you'd need to plan for at least 5 feet per person.
Materials – do you want your deck made of wood or composite? Consider maintenance: Weather and the sun are hard on exposed wood products. If maintained with a good sealer on a regular basis, wood can last a very long time. Staining and sealing a deck every 2-3 years is not cheap nor is it a quick project. However, if maintenance is put off, in time one will be faced with the inevitable and unenviable chore and expense of replacing the wood on the deck. …or worse, the whole deck itself. Many of my clients are choosing the composite decking and vinyl rails. It requires no expensive maintenance and can be quickly cleaned with a power washer if needed. It costs more upfront, but time and money are saved in the long run.Wood is less expensive but has to be maintained – cleaned and stained every 2-3 years. Composite is more expensive but does not required regular maintenance.
Style – do you want the deck to be colonial, contemporary, cottage, rustic or something totally your own? When making this choice, consider how a deck could echo the style of your home.
Cost – how much can you spend? Cost is primarily driven by square footage, quality of materials and labor. DIY + wood = lower budget. Contractor + composite = higher budget
Building Codes – what are the building codes for the locality where you live? Several localities have building codes information online or your contractor can assist with obtaining this information as well. Here are links to a few of the localities in the Richmond metro area:

Chesterfield County – https://www.chesterfield.gov/faq.aspx?qid=187
Hanover – https://www.hanovercounty.gov/303/FAQs
As with any home improvement investment, investing a little time into research can have a big return on the final product. Check out resources at your local library or purchase your own resource to reference as long as needed. The Black and Decker Complete Guide to Decks 6th Edition has some great ideas and information. Next, contact Dosher Construction for DIY questions or if you decide to sit back and hire a contractor. Either way, we are here to help!
The links to retail sites in this post are affiliate links, and we will be compensated when you make a purchase by clicking through our links.
https://dosherconstruction.com/wp-content/uploads/2014/11/dci-header-logo.png
0
0
James
https://dosherconstruction.com/wp-content/uploads/2014/11/dci-header-logo.png
James
2018-10-10 15:27:11
2019-02-13 22:39:11
Thinking About Adding a Deck?