Last week, the DCI crew continued at the river front property where they finished up the deck overlooking the James River last week. If you missed that, you can read about it here. The homeowners were so pleased with the deck, they asked DCI to come back and work on the inside. This property had all dark stained paneled ceilings and crown molding. The homeowner wanted to brighten and open up the space with white ceilings and trim. This is a good strategy to make a small space look larger. Painting is also a great DIY job that doesn't require a lot of experience but with the help of some useful tips, the investment of a few hours of your time and careful preparation you can turn that ho-hum room into a WOW room. Here's some things to think about before you begin: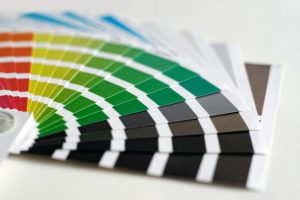 Choosing colors – Ask yourself, what do you want to accomplish in this space by painting? Do you want to make a small space appear larger? Consider a light color. Is the space visible from other living areas? Consider a complimentary color. Should you paint the trim white to accent your work or paint it the same color? I like the look of crisp white trim bordering a freshly painted wall. It kind of pops out at you like freshly minted currency. Sometimes choosing the right color is difficult. Many of the retailers where you can purchase paint like Home Depot, offer samples for about $3. Many of my customers take several home and paint them on the wall to see how they look. It is a good way to see how the color you chose looks in your space with your lighting without spending a lot of money. Once the color is chosen…what's next?
Type of Paint and Finish – There are several types of paints and finishes. The most common type of paint used inside a home is latex, water based. It provides easy equipment clean up with water and the smell is minimal. Special projects, like the stained wood ceilings in our river front project, may need an oil-based paint instead. These require a special equipment cleaner, such as mineral spirits and lots of open windows for air flow. Paint finishes include flat, eggshell, satin, semi-gloss and high-gloss. Again, where you are painting may determine the finish you choose. Ceilings and walls typically get a flat paint. Flat paint does a better job at hiding any imperfections in finish …in older houses, that can be important. Eggshell is step up from flat in texture and can give your living area walls a nice finish. Satin and Semi-gloss are good choices for high traffic areas with increase moisture like kitchens and baths. Those are also good choices for your wood trim. It is easier to clean and more durable.  High gloss is often seen in older homes where an emphasis of the molding and trim work is a plus. Or perhaps you want a richer, deeper look? Consider a textured paint, but beware, this may require specialty rollers/brushes or a conversation with an expert before beginning.
Supplies – equipment for a basic home paint project is generally minimal and affordable, again making it a great option for DIY. Basically, you will need rollers, brushes, trays, drop clothes, painter's tape and a bucket.
Masking and tape – Nothing screams "amateur" like wavy paint lines, drips and runs and tiny speckles of paint on floors and base board. Professional looking paint jobs take a little more preparation but reap heaps of praise from friends and families and well worth the extra effort. Professional painters can do amazing things with a paintbrush and often forgo the taping- off step simply because they don't need to anymore. For the DYI-er I recommend taping around trim before you start even the rolling of the walls. Rolling paint on walls throws tiny specks of paint no bigger than a pin point everywhere. Paint overhead with a roller while wearing glasses and then check your glasses at the end of the day and you'll have to agree with me. Invest in some good drop clothes and put them down too before the first can of paint is even opened and you will be glad you did.
It's amazing the difference a coat of paint can make to a living space. It is also one of the most affordable ways to update a space with a new look and feel. Articles highlighting painting in greater detail are planned for future installments. If you need more tips on painting please re-visit our blog in weeks to come or if you have specific questions feel free to go to "Ask James" and type in your question. I'll answer it as soon as I can.
The links to external sites in this post are affiliate links, and we will be compensated when you make a purchase by clicking through our links.
https://dosherconstruction.com/wp-content/uploads/2014/11/dci-header-logo.png
0
0
James
https://dosherconstruction.com/wp-content/uploads/2014/11/dci-header-logo.png
James
2018-10-30 16:10:23
2018-11-07 13:44:15
Painting Like A Pro